You are here
University of Panama and University of Santiago of Chile strengthen ties through Architecture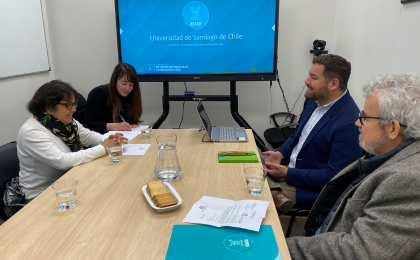 In the framework of the existing collaboration through a Fondecyt project, Professor Silvia Arroyo Duarte, from the Faculty of Architecture and Design of the UP, visited USACH.
As a means of exploring opportunities for collaboration in teaching, research and outreach, the University of Santiago of Chile recently received the visit of Dr. Silvia Arroyo Duarte, professor of the Faculty of Architecture and Design of the University of Panama. The visit was coordinated by the Faculty of Architecture and Built Environment USACH, in the context of the existing scientific collaboration through the Fondecyt project related to the history of architectural restoration in Chile. 
During her stay, the UP professor participated in a meeting with Fernando Olmos Galleguillos, director of the Department of International Relations (DRII); Mayerley Pacheco Pinango, coordinator of International Cooperation of the same department; Rodolfo Jiménez Cavieres, dean of the Faculty of Architecture and the Built Environment; David Cabrera Hinojosa, head of the Architecture program; and Dr. Maria Victoria Correa Baeriswyl, coordinator for Research and Development of the same faculty.
The meeting emphasized the interest of both parties in strengthening collaboration and formalizing this international link between the two universities, and the director of the DRII expressed his readiness to facilitate the signing of collaboration and/or student and faculty exchange agreements. Additionally, he invited academics to promote actions towards internationalization at home, virtual activities, seminars, face-to-face activities, co-tutelage, workshops and research internships and other actions that contribute to USACH's Internationalization Policy.
Dr. Silvia Arroyo Duarte expressed her gratitude for the receptiveness during her stay at USACH and highlighted the joint collaborative work she has done with Professor Dra. María Victoria Correa Baeriswyl.
Likewise, Dr.  Arroyo also noted the interest of the University of Panama in expanding collaboration beyond architectural issues and strengthening ties with the University of Santiago of Chile in terms of research and academic exchange, as expressed by its Rector, Dr. Eduardo Flores Castro, who sent a Letter of Intent to Rector Dr. Rodrigo Vidal Rojas.
Both parties agreed to collaborate through an agreement, with emphasis on promoting joint research and academic exchange in the area of architecture in a first phase, and to expand cooperation to other faculties in a second phase. The Department of International Relations will assist in the management of the agreement with the University of Panama.
News