You are here
Representative of QS Ranking for Latin America highlights USACH's prestige among national and foreign employers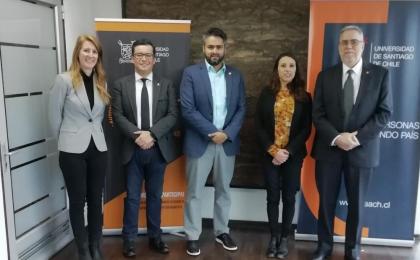 El Director Regional de Quacquarelli Symonds Profesional Services, Juan Carlos Mejía Cuartas, en reunión con el Rector Juan Manuel Zolezzi Cid, remarcó la dimensión de "reputación de empleadores" como uno de los criterios donde nuestra Universidad resalta dentro de la medición.
The Regional Director of Quacquarelli Symonds Professional Services, Juan Carlos Mejía Cuartas, in a meeting with Rector Juan Manuel Zolezzi Cid, highlighted "employer reputation" as one of the criteria where our University stands out in its assessment.
Our University's authorities met with the Regional Director for QS Professional Services, Juan Carlos Mejía Cuartas, who provided details on the assessment and the reality of our University, within the framework of its tour of the institutions being evaluated.
The latest QS World University Rankings 2020, ranked the University of Santiago, Chile, as 489th in the world. At the national level, USACH ranks third, and it holds 13th place in all of Latin America.
"USACH has a prominent position, responding well to the criteria observed at the global and Latin American level, including 'employer reputation,' an indicator that shows this University's positive evaluation by employers," points out the QS representative.
The measurement of employer reputation is based on over 40,000 responses to the QS Employer Survey, and asks participants to identify the institutions that produce the most competent, innovative and effective graduates.
Excellence
"While this is not the only parameter to observe what is going on within our University, we need this information to be able to develop strategies and keep moving towards excellence," states Rector Dr. Juan Manuel Zolezzi Cid.
The USACH maximum authority adds that, "there is no doubt that there aspects we must improve, but we are satisfied with our current ranking, because it shows us that we are on the right path."
For the Vice Rector of Research, Development and Innovation, Dr. Julio Romero Figueroa, there are parameters such as academic reputation and employer reputation that "greatly favor us and position us among the best Universities in the Region and the world."
However, Dr. Romero says that it is necessary to "have a strategic vision regarding what information is, how we plan according to these data and establish the University's long-term vision, in order to make a significant and high-quality contribution in the areas where we are most competent."
According to the Vice Rector of Outreach, Dr. Karina Arias Yurisch, this is one of the ways our institution can learn, "how we are viewed by students, employers and academics around the world, which is fundamental to continual improvement and institutional learning. We understand that excellence is something we must strive for every day, and this information is key for doing so."
"These data are fundamental for defining outreach strategies so that our research and teaching may reach the community, mainly how to strengthen employer requirements and communicate the results of our research," she pointed out.
Finally, the Director of the Department of International and Inter-University Relations, Anoek van den Berg, affirms that, "it is important to highlight our international position in terms of employer reputation."
Source USACH al Día:https://www.usach.cl/news/representante-ranking-qs-para-america-latina-destaca-prestigio-la-usach-entre-empleadores
News