You are here
Last-year Engineering Student is the First Intern from the Electrical Engineering Department at the Jüke Company in Germany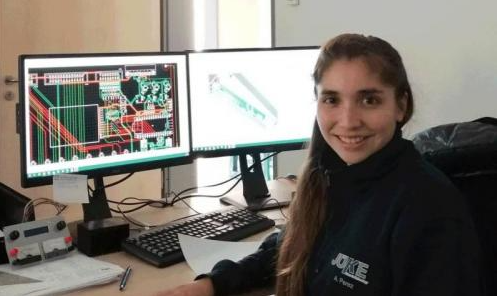 The Electrical Engineering student is staying in the city of Münster since the beginning of October, developing an internship program at the German mechatronics company Jüke Systemtechnik GmbH. She is part of the Electronic Department and assists in creating electronic diagrams and designing PCB by using the Pulsonixs program and Arduino microcontroller programming. She also develops electronic circuits with carcass and wiring by herself to carry out tests and reports, among other tasks. Along with her role in the company, she is taking courses on Nanoelectronics and Computer Aided Circuit Design at the University of Applied Sciences FH Münster.
For Analuisa, this experience is totally worthy, both professionally and personally, since she is not only working in a first-class work environment, where teamwork prevails, she also has the opportunity to improve the German and English language and meet people from different places of the world. "This company really exceeded my expectation. The electronic area is just fascinating; there is always lots of working and each task is different from the other. It is impossible to get bored. This experience is broadening my horizons by making new friends with different traditions and culture, and being right here in the German culture," she points out.
In this sense, the positive experience is also based on the strengths she has acquired over the years at the university. Her abilities to work efficientelly and under pressure, her willingness to learn and study in different situations, and her curiousness and analitical way of thinking are competences she developed during her academic career.
Life Experience
Besides of her working experience, Analuisa had a big change in her life. She has been able to thinkg about her personal and professional growth and on how these opportunities are in many times unique: "Believe in yourself. Take all the oportunities you have ahead and don't be afraid to fail, don't let the time pass", she affirms.
Somehow, she has been tested under some circumstances such as leading a new life with a different culture and language, and of course being independent. These are life experiences where personal strength and willingness are very important. "We can learn, adapt to the new environment and open our minds to new ways of seeing the world, and we finally obtain more than we initially thought, we discover new things about ourselves and learn better tools to face new challenges", she says, encouraging her peers to apply to any opportunity. "Let's enjoy every step and opportunity we have in front of us. Do not be afraid of new challenges; stop looking to other people and follow patterns of what we have to do. Life flies by and we need to feel that we are in the right place and doing what really makes us happy. We don't have to forget to thank every day how lucky we are to be able to choose who we want to be," she adds.
Global Engineers
Analuisa started her journey to Germany with the Global Engineers Program of the Faculty of Engineering. The program is focused on the international and intercultural professional training of FING students, and includes both internships and professional training courses.
The internship position in Jüke Systemtechnik GmbH company, part of the academic offer of the Global Engineers Program,  is offered thanks to an agreement with the University of Applied Sciences FH Münster. This fundamental collaborative alliance has allowed the participation of engineering students for three consecutive years; two students of the Mechanical Engineering and Informatics Engineering Departments already developed their internship in Germany, now it is the first time for a student from the Electrical Engineering Department. For more information about the German company, you can click here.
Now some calls are currently open, including scholarships, discounts and financial support. If you are interested in having more information, you can contact the International Relations Unit of the Faculty of Engineering at fing.international@usach.cl
Written by: Communication Unit of the Department of Electrical Engineering 
https://finginternacional.usach.cl/es/noticia/last-year-engineering-student-first-intern-electrical-engineering-department-juke-company
Translated by: Javiera Díaz
News