You are here
"Make a difference, lead and enjoy": USACH students attended last meeting before the exchange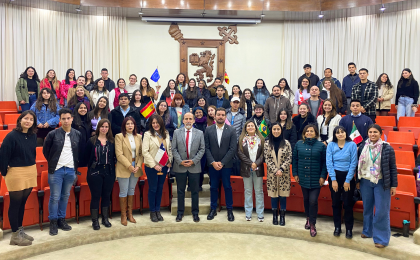 With the participation of Rector Dr. Rodrigo Vidal Rojas and Vicerector for Public Outreach and Engagement Dr. Patricia Pallavivini Magnere, the final orientation meeting was held for outbound exchange students who will study in institutions around the world during the second half of 2023.
Last Friday July 21, the "Send-off" took place, the final orientation meeting for students studying abroad during the second semester of 2023 in exchange programs in a variety of universities around the world. The activity was held in the Hall of Honor and was attended by the Rector Dr. Rodrigo Vidal Rojas and the Vice Rector for Public Outreach and Engagement Dr. Patricia Pallavicini Magnere.
This meeting, as its name indicates, is the last official gathering before leaving to their countries of destination.  The objective is to provide guidance and recall all the aspects related to their exchange: documents, financial support, best practices, cultural shock (among others), ending with a Q&A.
Rector Dr. Rodrigo Vidal Rojas attended to accompany the students, beginning by greeting and congratulating them, noting that "it is not easy to earn a place on an exchange program. They are privileged to do so because of their abilities and performance." He also briefly told his own story of studying abroad, saying that "it is an unforgettable experience. You gain something that is engraved into your life."
The Rector continued his interaction with the students by asking them about the countries and universities where they would study next semester, sharing some related data and experiences. He then closed his speech by wishing them success and reminding them, "You can count on University of Santiago, this is still your home. Make the best of the experience, be good ambassadors to the University, make a difference, lead, enjoy, and do not forget your families."
In turn, Vicerector for Public Outreach and Engagement Dr. Patricia Pallavicini Magnere said that "this meeting is an important and vibrant opportunity for us because part of our work charges us with energy, and one of these is the chance to support our students in these important initiatives." She added, "mobility experiences mark education, they set an important milestone. We are seeing the results of a process that started for you a long time ago."
Fernando Olmos Galleguillos, director of the Department of International Relations (DRII), said he was pleased to see the students about to leave, encouraging them to make a personal effort during their mobility based on responsibility, respect, and tolerance. Finally, he added that "If you behave well, believe me, it will not only benefit you, but also other students in the future because this enhances inter-institutional relations. We encourage you to be great ambassadors for the University."
The main presentation of the "Send-off" was made by Macarena Pérez Ovalle, Outgoing Student Mobility Coordinator of the DRII, who called on the students to trust in the preparation that the Department of International Relations has given them. "You have been working to make this exchange a reality since you applied, every document, every process and stage has been part of the preparation that USACH has given you so that your experience during the exchange will be the best possible. Trust yourselves and trust us," she said.
Jonathan Garcia Gomez is a student of Civil Engineering in Civil Works and will spend the next semester at the Instituto Superior Tecnico of the University of Lisbon, in Portugal. He said he was "very happy for the possibility. As an evening student, at times we believe that this type of opportunity is very difficult to achieve, but I have been able to prove that when you want something and you plan well, you can certainly achieve it." As for the new challenge he will face, Jonathan believes that "undertaking an adventure far away from friends and family will be a great challenge, no doubt, but it will also be a chance for intense learning not only on a personal level, but also academically."
There are 56 students who will be on exchange in the second half of 2023, in different institutions in Germany, Argentina, Brazil, Canada, Spain, Japan, Mexico, the Netherlands, Portugal, and Uruguay, with representation from almost all the faculties of the University of Santiago of Chile.
News